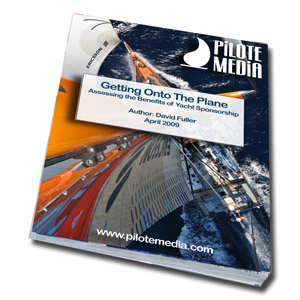 Pilote Media are proud to announce a new series of White Papers that use sailing and Yacht Racing to explore themes of Sports Marketing, Sponsorship, Social Media, Brand benefits and Return on Investment.
With the current economic climate in mind, David Fuller, CEO of Pilote Media and Contributing Editor of Yachtsponsorship.com, looks at the relative merits of sailing versus more traditional or well known sports.
The title; 'Getting Onto the Plane' refers to the process of a boat lifting out of the water to skim across the surface of the water rather than pushing through it. The series aims to give potential sponsors, Marketing Directors, Event Organisers and competitors insights into the business of yacht racing and get them racing more quickly.
The First Paper 'Getting Onto the Plane – Assessing the Benefits of Yacht Racing' is an overview of the topics and themes that will be covered by future papers. It touches on how sailing provides positive brand associations and how technology can provide new audiences. There are also messages for politicians and media who have sought to characterise sponsorship as a wasteful perk : Sponsorship of sport is a legitimate part of the marketing mix and can deliver real return on investment.