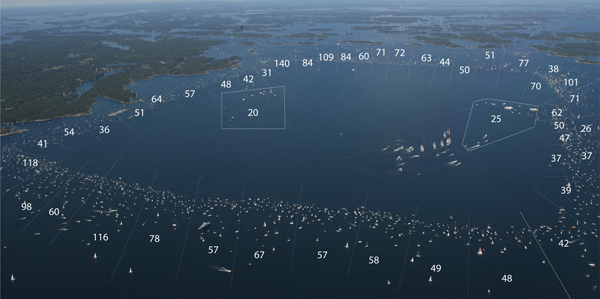 We recieved this photo from Knut Frostad, CEO of the Volvo Ocean Race this morning with the following note:
We have now counted the number of boats in the amazing picture taken from the Swedish Coast guard aeroplane from the Inport race last weekend, 2808 boats!! And probably a couple of hundred more outside the picture who made it into the area.

If we play with the number of 15 people as an average per boat it would make a total number of 42120 people out at Kanholmsfjärden. Our national arena for Football has an capacity of 36000. Who said that sailing is a sport that people are not interested in?

It´s has been some of the most memorable days in many of us lives and pictures like this will always remind us of what an incredible experience this has been. Thank you all!
It reminds me of Boxing Day in Sydney Harbour, where the cliffs are lined with people and the wash caused by the spectator fleet as they follow the big boats to the heads and out to sea. 15 people per boat might be an exageration, but the sentiment is valid. Organisers take note. Without fans, sponsors are only getting half the value that they could be getting from your event.