The British Marine Federation (BMF) has released figures relating to participation in boating activities in the UK. While there was not a lot of fanfare around the report, the numbers give a deep insight into key parts of the industry and should be compulsory reading for anyone trying to run a business around yacht racing and sailing in the UK.
They survey covers 21 different types of beach and boating activities and the general numbers show that there are some increases in participation, but there is no significant change in participation for small sailboat racing or yacht racing. In other words, from a participation level the sport is stagnant with no growth.
What's even more worrying is that there is decline in participation in the 16-34 year old demographic, balanced out by slight increases in the 35-54 and 55+ age brackets. Diversity is also pretty low with the figures showing the sport to be male dominated and almost exclusively white.
The report finds
Small sailboat racing participation rate – 0.44% (175K – 266K people) with a best guess at 218,067 participants.
Yacht racing participation rate – 0.20% (67K – 131K people) with a best guess at 99,049 participants.
The study also shows that 60% of people involved in Yacht racing are members of clubs, but small boat racing has seen a decline in club membership from 50% several years ago to 42% in 2009.
The sport seems to be doing a pretty bad job of marketing itself. Most participants try sailing because they are introduced to it through a friend. In the world of social media, this is an opportunity for those involved in the sport to promote it and keep it alive.
The current trend of major sailing events being paid for out of tourism and travel budgets seems to be justified, with many people trying sailing for the first time on holiday. 0% of people cited seeing advertising or watching the sport on TV as a reason for taking up sailing. 1.4% cited attending an event or show as a reason for starting to participate in sailing.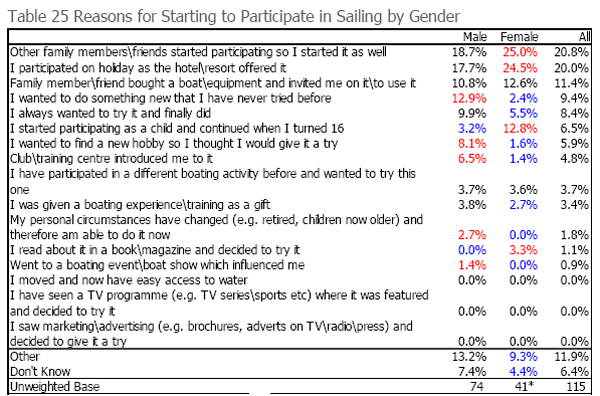 The reason given for people stopping sailing are also enlightening.
Participation and viewership are not the same. Hopefully there is a larger audience for yacht racing than just the competitors. The America's Cup should have been the sport's Ice Hockey gold medal game, but like the participants, people have just lost interest.
For those looking to find sponsorship for UK events or sailing projects, the report has quite detailed demographic information relating to participation at a regional level around the UK.
More information can be found at www.britishmarine.co.uk