The following video, and the film it previews will probably do more for sailing than the 'New Deal' America's Cup ever will. Already over 1 million people have associated sailing with being young, cool and in love through this YouTube clip alone.
[cleeng_content id="604313862″ description="99 cents or 10,000 hours. The path to being an expert can be easy or hard. " price="0.99″]Why? It's something that people who promote offshore sailing have known about for a long time. They are not selling the length of the boat or the size of the spinnaker – they are selling a human story. If you want to get to the 'Facebook Generation', then you need to understand that Facebook is not about technology, it is about sharing. It is about people saying 'Here is a photo of me on the red carpet', or 'here is a video trailer you have to see.'
It's the kind of thing we might have expected from the America's Cup re-launching itself for the future – red carpets, glitz, glamour and Hollywood stars. But instead, it was the VELUX 5 OCEANS at the centre of all the action. Thousands of screaming fans packed London's Leicester Square for the UK premiere of 'The Death and Life of Charlie St Cloud', starring teen heartthrob Zac Efron.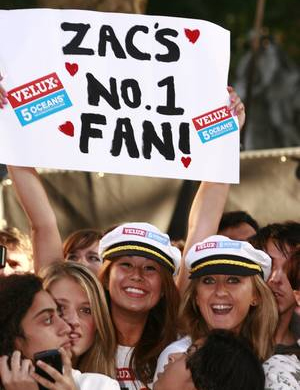 The film is an adaptation of the best-selling Ben Sherwood novel The Death and Life of Charlie St Cloud, in which the eponymous hero falls in love with young sailor Tess Carroll days before she is due to go to sea in a challenging solo round the world yacht race. Producers chose to base the film on the 35,000-mile VELUX 5 OCEANS race for its rich heritage spanning 28 years and reputation as one of the toughest sporting challenges. The character of Tess is also loosely based on Emma Richards, the British solo sailor who became the youngest ever female to complete the VELUX 5 OCEANS in 2003 aged 27.
Zac Efron, who starred in the film also learnt to sail for the role.  To his fans, even the terms monohull and multi-hull mean nothing. These are the spokespeople that sailing needs if there really is a desire to appeal to a younger, more mass-market. Efron said:
"Initially, it was difficult to learn. There are so many factors that go into it. It's not just wind blowing into a sail and propelling your boat. It's incredibly precise. One mistake, one lapse in judgment, and it can very quickly capsize."
The Velux 5 Oceans Race recently hired PR heavyweights Hill and Knowlton to promote the race to a wider audience. The launch last night shows some nice activation (even if the sailor hats are a little cliched).
VELUX 5 OCEANS Race Chairman Sir Robin Knox-Johnston said:
"It is a real privilege for us that the makers of Charlie St Cloud decided to feature our race in their film. It is really exciting to be associated with a major Hollywood picture, and we are delighted that it will bring the world of ocean racing to a whole new audience. Maybe in four years time we'll have a totally new breed of skippers who were inspired to take to the seas after watching this film."
More Velux 5 Oceans Race News…[/cleeng_content]