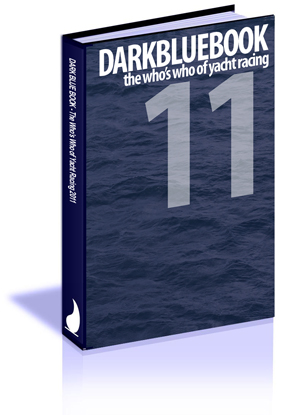 The Dark Blue Book, the who's who of yacht racing and the sport of sailing is inviting entries for the 3rd edition.
The 2011 directory of decision makers and influencers will be the largest yet due to the cycles of major events in the sport.
David Fuller, CEO of Pilote Media who publish the directory says:
"This time last year, there was a lot of uncertainty, mainly due to the America's Cup, but we still managed to double the size of the book on the previous edition. This year, most of the big events have got long term plans in place and team personnel are settling down."
The Dark Blue Book lists key information including contact details for rights holders, event organisers, sailors, teams, media and suppliers to the professional yacht racing industry.
David continues:
"We've seen the trend towards a more professional sport continue, with many appointments to top positions reflecting the need for the sport to be more commercially minded. Organisations like the Volvo Ocean Race, World Match Racing Tour and Alex Thomson Racing have recruited from outside sailing to build their executive teams."
Many of these professionals from other industries and other sports are familiar with similar directories. The Dark Blue Book is a ready made network of key contacts that enables business to be done more efficiently.
Jim O'toole, CEO of the World Match Racing Tour says:
As a new entrant to the world of professional sailing in July 2010 , I found the Dark Blue Book an invaluable tool  in navigating my way around a very complex landscape. It provides comprehensive and relevant  details on the all key players in our world and is a key resource in the World Match Racing Tour office.
The constantly changing nature of the sport of sailing makes the Dark Blue Book an even more valuable resource. In 2011, new teams will enter the Extreme Sailing Series to get experience sailing multihulls. Sailors like Torvar Mirsky and Ian Williams will compete in both the series for Extreme 40s and the World Match Racing Tour. Former World Match Racing Tour champion Adam Minoprio will move to the Camper Volvo Ocean Race team backed by Emirates, while several new organisations have been formed to mount America's Cup challenges.
The Dark Blue Book gives those in the industry and sponsors looking to understand which properties to back, a quick insight into who fits where.