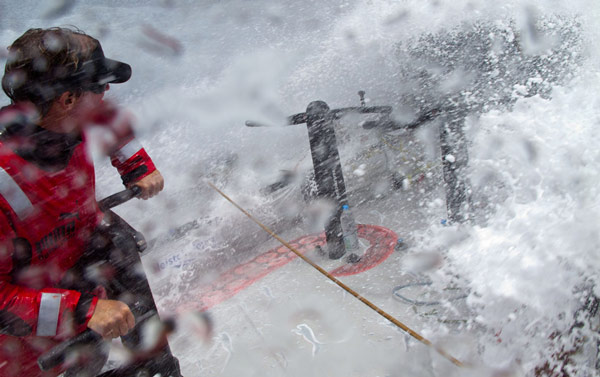 The tie-up between PUMA Ocean Racing, Laird Hamilton and yacht designer Juan K has been recognised outside the yacht racing bubble by Outside Magazine.
The new PUMA/Laird stand up paddleboard (SUP) was selected by Outside Magazine for a 2011 Gear of the Show Award at the Outdoor Retailer trade show. The limited edition, carbon fibre board was the only watercraft to be included in the list of 10 awards.
The SUP board features the same design principles as the PUMA Ocean Racing Volvo 70 – both ergonomically and through the use of the same ultra-lightweight materials. Built in the United States by Clear Carbon and Components, Inc. and distributed by Surftech, the board marks the first time that boat hull design innovation have been used in stand-up paddleboards.
The PUMA/Laird Board is covered by red tentacle graphics matching PUMA's Mar Mostro. Demo PUMA/Laird Boards will be available at each of the port stopovers during the Volvo Ocean Race.
Juan K is the mastermind behind PUMA's Mar Mostro as well as the designer for the two previous winning Volvo Ocean Race boats – ABM-AMRO ONE and Ericsson 4. Kouyoumdijian is also the principal designer with Artemis Racing Team for the 34th America's Cup. Born in Buenos Aires, Argentina, his passion for sailing inspired him to study naval architecture, and he earned a degree in yacht and in small craft design. Today, his company, Juan Yacht Design, based in Valencia, Spain, is composed of a multicultural team specialized in the design of high performance racing yachts.
The collaboration between PUMA Ocean Racing and Laird Hamilton was announced earlier this month.
Meanwhile, PUMA Ocean Racing's Skipper Ken Read has been testing the Volvo 70 in the Canary Islands. He said in a recent blog, before flying to Cowes Week to receive awards for the Transatlantic race:
The Lanzarote travel brochure has not fibbed to us so far – it is exactly as advertised. Which means wet, windy and sometimes crazy sailing. It is exactly what we need.

Getting used to the speeds in these boats is imperative. It's not something that necessarily comes naturally. What you think is fast can always be faster. And, this place is hopefully going to bring that drive to each of us individually and collectively as a team.

After doing the Transatlantic Race, the sailors took two weeks off. In those two weeks, the shore team completely took apart the boat and put it back together again, checking every millimeter of it, and they set up a fantastic shore base here at the Puerto Calero Marina. We showed up and literally stepped onto the boat – it was fantastic.