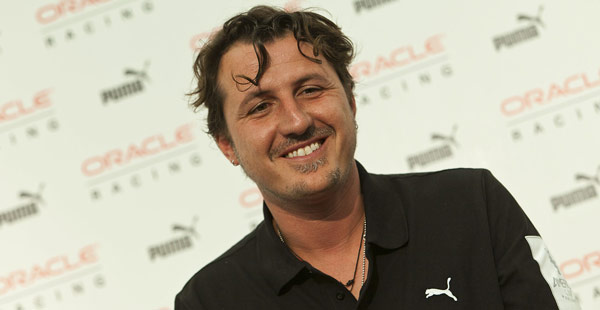 PUMA will replace SLAM as the Official Clothing Partner of America's Cup defender ORACLE Racing. The 'sportlifesyle' brand will also kit out the organising personnel and be the official merchandise licensee for the America's Cup.
There is no doubt that PUMA's sports marketing expertise will benefit the California based team, but PUMA will be pushed hard by the ORACLE Racing sailors who are used to throwing money and technology at something until it is the best. Making caps for VIP guests is one thing. Making technical sailing apparel that allows the athletes to do their job the best they can is another.
James Spithill alluded to the development work that has to take place to make PUMA work as a credible technical sailing brand:
"This will be one the toughest briefs ever given to a clothing company. The guys onboard will have phenomenal aerobic work rate, with high body temperatures, whilst needing protection from drenching spray. Not only will boatspeeds exceed 30 knots (35mph/40kph) creating wind chill, but the clothing must be aerodynamically efficient for low drag."
Antonio Bertone, Chief Marketing Officer for PUMA said:
"For PUMA, this is a great opportunity to align with a team on the cutting-edge of innovation. ORACLE Racing is not only defending the Cup, but they are taking sailing to the next level – the boats are fast, the crews are dynamic and the racing is exciting to watch. This is the next step in developing the performance aspects of the sailing gear, along with connecting to a larger audience to spread the passion and joy of the sport."
It will be interesting to see how PUMA align their Volvo Ocean Race and America's Cup sponsorships. On the one hand, this is a great opportunity for a global sports brand to make sailing cool by bringing together PUMA Ocean Racing and ORACLE Racing and exposing PUMA's fans to both disciplines.
The PR folk are still giving Russell Coutts the best lines though. In the statement about the partnership between ORACLE Racing and PUMA, he said:
"It's fantastic to have the most recognizable brand in sport sharing the vision for a faster and more exciting America's Cup and to have PUMA alongside us for the next three years in our bid to stay the champion team."
Maybe there's a brand recognition study that we haven't seen, but we would have thought the most recognizable brand in sport was Nike.
More America's Cup News